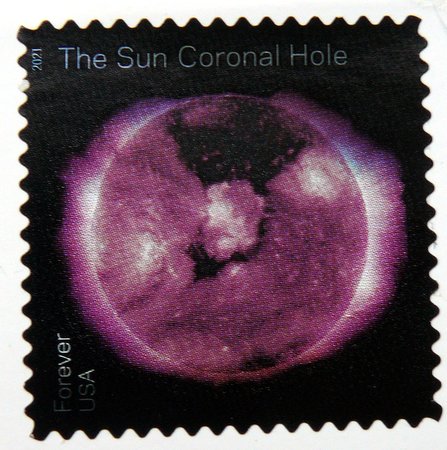 The postage stamp of the month November 2021 was the Sun Coronal Hole postage stamp from the USA.
It was just like that, I saw the stamp and I was like wow.
Before that, there were already two great stamps that I had nominated. Once the steam locomotive from Russia and from the 29th International Geology Congress 1992 from Japan.
The Sun Coronal stamp always fascinates me when I look at it.
It has a very rare motif, the color combination with violet and black on the white postcard background and the richness of detail in the recording.
The other two stamps would probably have had very good chances in a different month.
The Sun Coronal Hole postage stamp was too strong.
Even if I try to be as objective as possible, it is of course always subjectively influenced, in the sense of which motifs, colors and shots catch my attention and which less.
Happy Postcrossing!