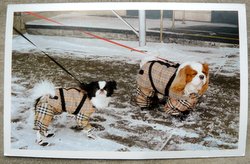 On October 1, 2022, a postcard arrived from the USA.
The postcard shows 2 dressed dogs on a leash.
She wrote that she is from Sacramento and also likes to watch movies. She hasn't been to the cinema in a long time.
There are two great stamps on the postcard. One stamp shows a red 1969 AMC Jevelin SST and the other stamp shows a black 1969 Chevrolet Camaro Z/28. They are two dream cars.
The postcard traveled 9308 kilometers, that is 5783 miles, in 14 days.