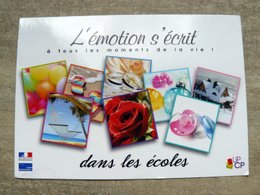 On December 12, 2021, a postcard arrived from France.
The postcrossing profile belongs to a school class. It was written by a student from the school class.
The motto of the postcard is "Emotion is written at all times of life!" What follows is a collage of images of various life events.
He didn't write much. His hobby is Fortnite.
The French stamp on the postcard is called feather maker.
The postcard traveled 617 kilometers, that is 383 miles, in 5 days.