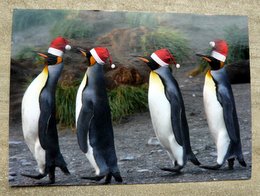 A postcard arrived from the UK on December 19, 2021.
The postcard shows a group of penguins.
The postcard was in an envelope. There was also 2 UK chocolate shaped coins in the envelope.
She didn't write very much other than being from Newcastle.
On the envelope were 3 postage stamps and two of them with Christian motifs. It was also Christmas time when she wrote the postcard.
The postcard traveled 1173 kilometers, that is 728 miles in 7 days.