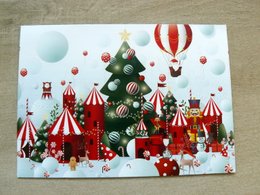 On December 20, 2021, a postcard arrived from the Netherlands.
It was a folded Christmas card including New Year's greetings.
The Christmas card comes in an envelope.
She wrote a few interesting lines about her place in the north of the Netherlands and sent Christmas and New Year greetings.
There were 4 Dutch stamps on the envelope. One stamp shows a tree, another a house like a mansion and the third fireworks.
The postcard covered 639 kilometers, that is 397 miles, in 6 days.