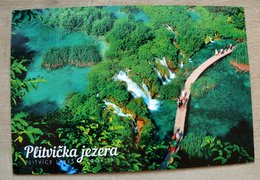 On December 22, 2021, the very first postcard arrived from Croatia.
The motif of the postcard shows the Plitvice Lakes. I was very happy about that, because I visited the Plitvice Lakes myself and therefore know the beautiful landscape.
The Winnetou movies were also filmed here (with actors Pierre Brice and Lex Barker).
In 1979 the Plitvice Lakes were included in the UNESCO World Natural Heritage.
It is worth a trip. For information, here is the link to the official Croatian website of Plitvice Lakes.
She wrote some nice lines specifically about Plitvice Lakes.
On the postcard you can see a nice stamp of 2 sand martins. This stamp would be included in the overview of animal stamps.
The franking was 8.60 kuna, which is around €1.14. So a bit more expensive than in Germany.
The postcard traveled 433 kilometers, that is 269 miles, in 5 days.