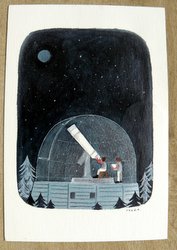 A postcard arrived from Japan on November 2, 2021.
The postcard shows a drawing of an observatory.
It was a special postcard. There was a postcrossing contact, in the sense of exchanging ideas. I already presented Nao's blog here.
That's what postcrossing is all about. You get to know people and exchange ideas.
She wrote some very nice lines and very detailed too.
There are 2 Japanese postage stamps on the postcard. One stamp is special. It is about the 29th International Geological Congress in 1992. A very fine stamp and is a candidate for stamp of the month November 2021.
The postcard covered 9,184 kilometers, that is 5,706 miles, in 12 days.