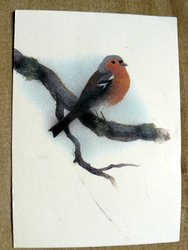 A postcard arrived from Finland on November 2nd, 2021.
The postcard shows a drawn bullfinch.
It settles in Europe, the Middle East, East Asia including Kamchatka and Japan as well as Siberia.
She didn't write much other than that she used to see the bullfinch very often. It's been years since she last saw a bullfinch.
On the postcard is a Finnish postage stamp showing a typical Finnish landscape with a lake. The stamp is from the 2017 vintage.
The postcard covered 1653 kilometers, that is 1027 miles, in 9 days.