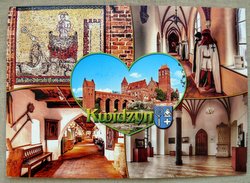 On October 25th I received a postcard from Poland.
The postcard shows the Kwidzyn Castle.
A nice postcard that also shows the inside of the castle. Kwidzyn itself has around 38,000 inhabitants.
He didn't write much.
The stamp shows the Polish-Greek athlete Jerzy Iwanow Szajnowicz (1911-1943). He was in resistance against the Nazi regime.
The postcard covered 815 kilometers, that is 506 miles, in 5 days.