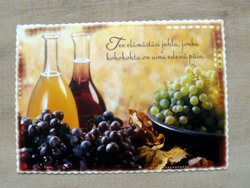 On May 18th a postcard came from Finland.
The postcard shows a picture of white and red grapevines and 2 carafes filled with wine.
A very nice postcard. According to the postcard, the picture is from Friedhelm Volk at Stoockfood picture agency.
She wrote some nice lines. So it was still snowing in Eastern Finland at the beginning of May. She likes rose wine.
The stamp on the postcard is very nice. It shows a Finnish lake and forest on the shore. It can also be the Baltic Sea. The stamp is held in light blue tones and a beautiful reflection of the sky and the clouds in the lake. The year of publication of the stamp was 2017.
This postage is a candidate for May postage stamp of the month.
The postcard traveled 1804 kilometers, that is 1120 miles, in 10 days.