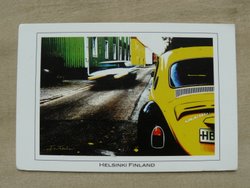 Another postcard arrived from Finland on May 18th. This time from Helsinki.
The postcard shows the rear view of a yellow and black VW Beetle. The photo was taken in Kumpula not far from Helsinki.
According to the postcard, the photo is from JcJordan.
She wrote some nice lines. At the turn of the millennium she lived in Munich for a good year. She had liked it very much.
There are two stamps on the postcard. A standard stamp of the long-tailed ducks (also in the animal stamp overview) and one that symbolizes spring.
The postcard covered 1,589 kilometers, that is 987 miles, in 9 days.