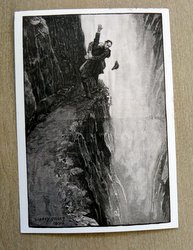 On May 20th a postcard came from Washington State, USA.
This shows an illustration by Sidney Paget for the book The Death of Sherlock Holmes. He did the illustration for "The Advanture of the Final Problem".
She didn't write much.
There was a standard US postage stamp on the postcard. The postmark was dedicated to Earth Day on April 22, 2021.
The postcard covered 8,567 kilometers (5323 miles) in seven days.