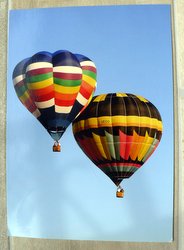 The last postcard for July arrived on July 31, 2021. The postcard came from the Netherlands.
The postcard shows two hot air balloons in the air.
Originally she wanted to send me a postcard from the coast, but read that I like the coasts of France. She decided on the balloonists.
Very nice that she thought so much. This is postcrossing.
It was an XL postcard in an envelope. There was a nice stamp of a goldfinch on it. This goldfinch stamp also complements my animal stamp overview.
The postcard covered 617 kilometers, that is 383 miles, in 3 days.