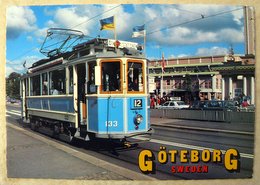 On September 7, 2022, another postcard arrived from Sweden.
The postcard shows one of the oldest trams in the city of Gothenburg, which is still running on certain occasions.
I especially like the postcard as I'm a fan of trams.
She lives a few kilometers from Gothenburg and wrote the entire postcard in German.
On the postcard was a stamp for the 100th anniversary of the Swedish Institute for Standards.
The postcard covered 1071 kilometers, that is 665 miles, in just 4 days.