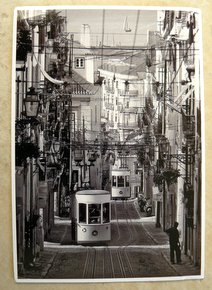 On September 2, 2022, a postcard arrived from Sweden.
The postcard shows a picture of the Elevador da Bica in Lisbon.
The photograph is by Manuel M. Pinturache.
She wrote that she is from Sweden and was in Lisbon some time ago where she bought this postcard.
On my postcrossing profile, I stated that I particularly like the Lisbon tram, which for me also includes the city's various elevators. When I was in Lisbon I also took the Elevador da Bica.
They usually connect Lisbon's lower town with the upper town.
The postcard traveled 1330 kilometers, that is 826 miles, in 26 days.