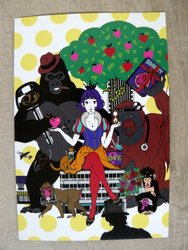 On June 18th a postcard came from Japan.
She wrote that she is from Yokohama.
I can't really classify the postcard. It is an illustration or drawing of several monkeys with a kind of queen in between. All around the queen.
She wrote that she enjoyed traveling and collecting stamps.
There are two nice stamps on the postcard. I particularly like one of the two. This shows a volcano and is about a volcano conference in 1988. A candidate for postage stamp of the month June 2021.
The postcard traveled 9401 kilometers, that is 5841 miles, in 12 days.