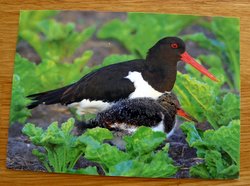 A postcard came from the Netherlands on June 10th.
The postcard shows the Eurasian oystercatcher with offspring in close-up.
The oystercatcher is widespread on the North Sea coast and is at home there.
He wrote that he was very fond of taking the train.
On the postcard there was a nice stamp with 2 bees as a motif. This stamp can also be found in the tabular overview of animal motifs.
The postcard traveled 659 kilometers, that's 409 miles, in 10 days.