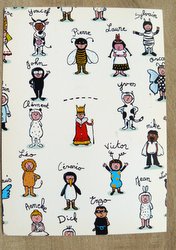 On June 8th I received a postcard from Finland.
The postcard is titled Francy-dress Ball. According to the postcard from Andree Prigent.
She didn't write much. She is from Tampere. She wrote a quote from Einstein.
There is a beautiful floral stamp on the postcard.
The postcard covered a total of 1678 kilometers, that is 1042 miles, in 8 days.