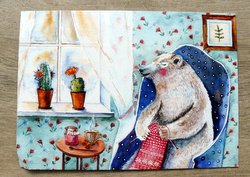 On April 29th a postcard came from Russia.
This shows a polar bear sitting in an armchair and knitting. In front of him a hot cup of tea or honey or tea with honey.
She wrote some nice lines. She also likes photography.
There are 2 identical stamps on the postcard, which are just great. The stamps showed an Irish Elk in wide format. I am not giving too much away. It will be April's stamp of the month. It is a Russian stamp from the 2020 stamp year.


The postcard covered 1,557 kilometers (967 miles) in 37 days.