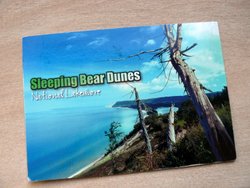 On April 27th a postcard came from the USA. The postcard shows a picture of the Sleeping Bear Dunes a National Lakeshore on Lake Michigan.
She likes this place. She writes that she would like to walk the entire Sleeping Bear Dunes Heritage Trail somewhere. It's 22 miles (35.5km) long.
Who would like to know more, here the website of the Sleeping Bear Dunes.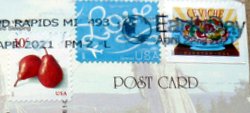 There are 3 beautiful stamps on the postcard.
The postcard traveled 7,050 kilometers (4,380 miles) in 11 days.