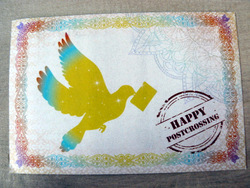 On June 22nd another postcard came from Kazakhstan. She lives in the capital Nur-Sultan.
She wrote very nice lines. She is a student and has relatives in Germany.
On the postcard there was a nice stamp of a sturgeon. This stamp is now also in the animal stamp overview.
The postcard traveled 4215 kilometers, that is 2619 miles, in 57 days.
This second postcard from Kazakhstan also takes an unusually long time with over 50 days.