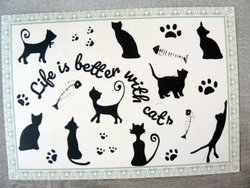 On June 23, I received a postcard from Hungary. It was my first postcard from Hungary. The postcard has the title "Life is better with cats".
This fits very well because I have cats myself. She wrote that she has a white cat.
There were 4 beautiful postage stamps on the postcard. I particularly liked one of the four. It shows red peppers and grapes. Two things that are associated with Hungary. The red pepper stamp can also be found in the overview of the fruit stamps.
The postcard covered a total of 669 kilometers, that is 415 miles, in 20 days.