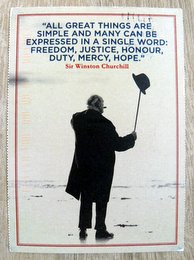 On February 19, 2022, a postcard arrived from the USA.
The postcard shows a picture of Sir Winston Churchill with a quote from him.
The postcrossing fellow lives in the state of Virginia outside of Washington D.C.
Washington D.C. is the capital of the USA with just over 700,000 inhabitants (as of 2020).
He wrote a few lines, such as that there is a lot of traffic in his area.
On the postcard was a standard global US postage stamp.
The postcard covered 6834 kilometers, that is 4246 miles, in 9 days.