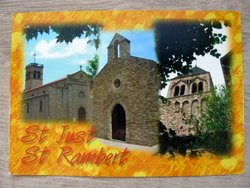 On February 19, 2022, a postcard arrived from France.
The postcard shows churches in the parish of Saint-Just-Saint-Rambert.
Saint-Just-Saint-Rambert has over 15,000 inhabitants. The commune is located in the Auvergne-Rhône-Alpes region.
He wrote some nice lines like that he has German ancestors.
On the postcard was a French stamp with the title Le petite prince.
The postcard covered 616 kilometers, that is 382 miles, in 6 days.