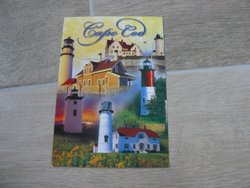 The next postcard came on October 20th. This time from the USA, Massachusetts. The postcard is wonderful. It shows a collage of lighthouses near Cape Cod.
He wrote interesting anecdotes. The first European settlers landed in this area and in recent years some great white sharks have appeared along the coast. The region is also known for the city of Boston. Cape Code extends into the Atlantic Ocean.
He put a lot of effort into writing the postcard.
For the 6,306 kilometers (3,914 miles) the postcard traveled only 6 days.