The next postcard came from the USA on October 22nd. Written by a postcrosser from Maryland. He picked up a postcard from Washington D.C., which is about a 40-minute drive away.
The postcard shows the Capitol, Lincoln Memorial, and Washington Monument. It's an XL postcard, the first of its kind that I received.
Baltimore is also a well-known city in this region.
There are also three wonderful stamps on the postcard.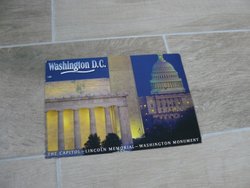 The postcard took eleven days to cover the 6,805 kilometers (4,225 miles).