At the end of October 2020 came the first postcard from the UK.
The picture shows a harvested field in the evening light. On these are scattered bales of straw compressed. The picture is taken in warm colors, almost vintage.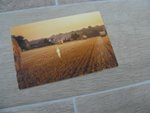 The Postcard traveled 1,050 kilometers (652 miles) in just three days. That was really fast.