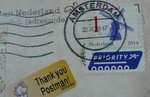 The next postcard was in my mailbox on October 25th. The postcard came from the Netherlands.
The postcard shows a wide flat area with fields of tulips. She writes on the postcard that she lives in an area that used to be part of the sea. She can look out the window and see the ships passing by.
There are stickers and decorative masking tape on the card.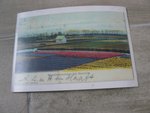 The postcard covered 642 kilometers (398 miles) in seven days.