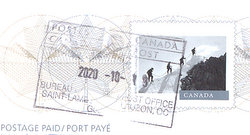 The first postcard from Canada arrived on October 29, 2020. The postcard shows a group of climbers. Byron Harmon is one of the climbers on Mount Habel. He lived from 1876 to 1942 in Canada, born in the USA, and photographed mountains.
The interesting thing about the postcard is that the stamp has the same photo motif as the postcard itself.

She wrote on the postcard that she also enjoys hiking and climbing mountains. She lives near Québec.
I really liked the postcard and the written lines.
In twelve days, the postcard covered a total of 5,890 kilometers (3,609 miles).