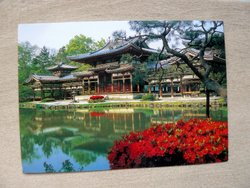 On April 20th a very nice postcard came from Japan. This shows the Byodo-in Temple Houo-do in Uji, Kyoto. The temple is a World Heritage Site.
If you want to know more about it, here is the link to the Byodo-in Temple Houo-do in Uji, Kyoto website
The postcard is a candidate for April's postcard of the month, there's no doubt about it. She wrote very nice lines about the current cherry blossom. She also wrote that the 10-yen coin has the design of the Byodo-in Houo-do Temple.
She also helped me translate another Japanese postcard. Very kind.
Two very nice Japanese postage stamps are on the postcard.
The two stamps cost 70 yen, which is currently € 0.54 and thus 43% cheaper than franking in Germany.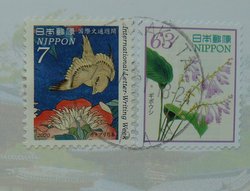 The postcard traveled 9266 kilometers (5757 miles) in 17 days.
Update on May 3rd: This postcard became the postcard of the month April 2021.