On April 21st I received a postcard from Finland. The postcard shows the Harbottle Extra Strong lager from Peter Cross.
I can't really figure out whether beer actually exists and whether it is ironic.
A research on the Internet shows me no useful results.
Anyway, the postcard is unusual in shape, not typically rectangular.
She wrote a few nice lines that there was still snow, but the first birds were already returning.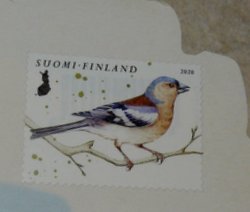 A very nice Finnish bird postage stamp is on the postcard. This is from the stamp year 2020.
The postcard traveled 1,653 kilometers (1027 miles) in 10 days.