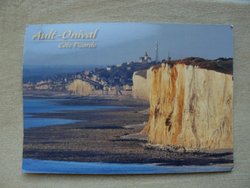 On April 20th a postcard came from France.
The postcard shows Côte Picarde in Ault-Onival.
It is a beach with many large cliffs and few tourists.
From Côte Picarde to the next well-known town of Calais it is about 120km.
He writes that he likes this nature.
Two exceptionally large French postage stamps were on the postcard.
The postcard covered 575 kilometers (357 miles) in nine days.