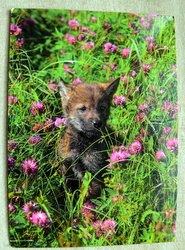 A postcard came from Belarus on November 6, 2021.
The postcard shows a baby wolf in the Braslaw National Park.
She wrote some nice lines. She likes walking, meeting friends and the season of autumn.
On the postcard is a Belarusian postage stamp showing a squirrel. I have included this stamp in the overview of animal stamps.
The postcard covered 980 kilometers, that is 608 miles, in 16 days.