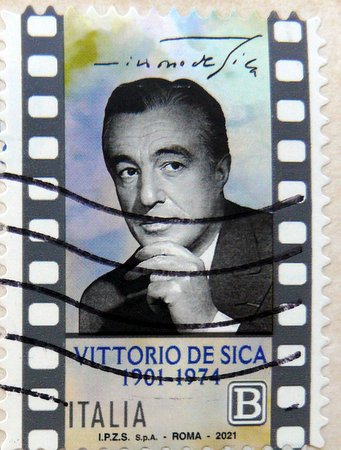 The postage stamp of the month October 2021 comes from an Italian postcard.
The stamp is dedicated to the actor Vittorio De Sica.
Personally, I don't know any of his films by name, although I have certainly already seen him. He lived from 1901 till 1974.

His filmography is impressive. He has also directed a great many films. He won a lot of awards. He was nominated for the Golden Palm, the Golden Lion, won Nastro d'Argento as best director in 1946. In 1948 as best actor and in 1949 as best screenplay. He starred with Sophia Loren in the Oscar-winning film "Yesterday, Today and Tomorrow".
This also shows his unbelievable range in front of and behind the camera.
160 films, 125 theater productions and 35 films as a director.
Just unbelievable.
It's great that a stamp has been dedicated to him.
Happy postcrossing!