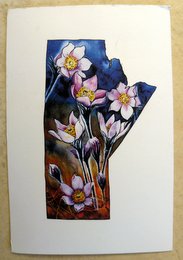 On July 27, 2022, a postcard arrived from Canada.
The postcard is very beautiful. It's a picture of Caitlyn Antaloczy and it's called MANITOBA. Artist Caitlyn Antaloczy also has a shop at redbubble. She makes beautiful drawings.
She, the postcrosser, wrote a few nice lines. Unfortunately, it wasn't easy to read. She also writes on her profile that she is trying to improve her handwriting. She writes that the flower on the postcard is a flower from her province.
On the postcard is a nice stamp of a coastal road.
The postcard covered 7036 kilometers, that is 4371 miles, in 12 days.