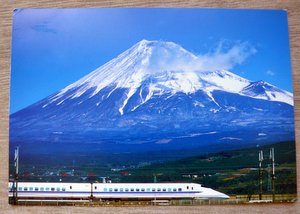 On July 28, 2022, a postcard arrived from Japan.
It was a wonderful postcard as it had different themes. In the background is the 3776m (12388 feet) high mountain and volcano Fuji. The famous Japanese Shinkansen passes by in the foreground.
She wrote a few nice lines. She lives in Hiroshima.
She didn't have much space to write because she was so kind and put 7 train stamps on the postcard. 6 of the stamps were used.
This adds quite a bit to my stamp collection of trains and locomotives.
The postcard covered 9156 kilometers, that is 5689 miles, in 13 days.