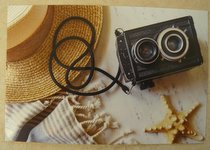 On August 1, 2022, a postcard arrived from Canada.
The postcard is titled Holidays with an old camera.
The picture shows an old camera, a sun hat and decorations that suggest a summer vacation.
She wrote some nice lines. She lives in Toronto and likes movies.
There are 3 very nice stamps on the postcard. A stamp shows a sunflower. Another stamp features a retro Canadian Pacific Railway train and another stamp features a snowshoe hare.
The train stamp will expand my stamp train collection and the snowshoe rabbit will be added to the animal stamp overview.
The postcard covered 6613 kilometers, that is 4109 miles, in 8 days.