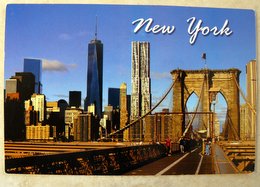 On July 25, 2022, a postcard arrived from the USA. The postcard features an image of New York City.
On the back is a picture of the Statue of Liberty.
He wrote that he collects stamps and postcards.
There were 3 stamps on it. One stamp was from 2019 (the one with the U.S. flag) and another from 2022 (in the middle).
The postmark is unfortunately not easy to see.
The postcard covered 7322 kilometers, that is 4549 miles, in 10 days.