On March 31st I received a postcard from Switzerland.
The postcard shows a very atmospheric picture. A lake surrounded by mountains and a sunset.
A nice postcard.
She wrote a little poem by Peter Hille on the postcard.
The Swiss postage stamps are also great. One stamp shows a block of chocolate and is from the 2020 stamp year.
The second stamp is a drawn portrait of Friedrich Dürrenmatt from the 2021 stamp year.
Great stamps from the Swiss Post.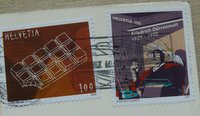 The postcard traveled 321 kilometers (199 miles) in four days.