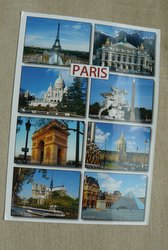 On March 31st, a postcard arrived from Paris, France.
It is a typical tourist postcard that shows the sights in a multiview.
According to the postcard, the photos were taken by Ed. Guy, F. Boutier, O. Nicolas, and P. Viard. Among other things, the Eiffel Tower, Louvre, Notre Dam and Arc de Triomphe are shown.
She didn't write much.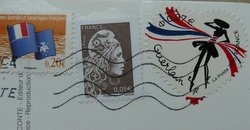 There are 3 French postage stamps from La Poste on the postcard. One of the 3 stamps is special. The stamp has a heart shape, not a typical rectangular shape.
The postcard covered 669 kilometers (415 miles) in 4 days.