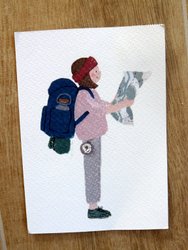 The first postcard of April arrived on April 5th. The postcard came from France.
The postcard shows a drawing of a girl on a hike.
She wrote that she also enjoys hiking and lives 90 kilometers from Paris.
The French postage stamp from LA Poste shows Charlie Chaplin from the movie "The Kid". The film is from 1921 and 2021 will be 100 years since then.

The postcard traveled 731 kilometers (454 miles) in seven days.