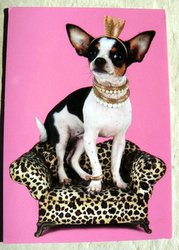 On August 29th, 2021 a postcard arrived from the Netherlands.
This shows a photomontage of a dog on a sofa and dressed like a princess.
She didn't write much.
On the postcard is a Dutch postage stamp that shows the king in.
The postcard covered 642 kilometers, that is 398 miles, in 3 days.