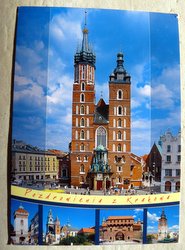 The last postcard of the month came on August 31, 2021. This came from Poland.
It is a tourist picture postcard from Krakow. I like it very much.
Krakow is a 3-hour drive from the capital, Warsaw.
Krakow has more than 700,000 inhabitants and it is the second largest city in Poland.
She wrote next to nothing on the postcard, except greetings.
That happens very rarely.
There is an Easter stamp on the postcard.
The postcard covered 658 kilometers, that is 408 miles, in 4 days.