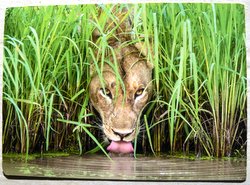 A postcard came from Sweden on August 27, 2021. This shows a lion drinking in a river or lake.
It was a special postcard in two ways.
First, it was the first postcard from Sweden up to that point.
Second, she wrote very nice lines and explicitly mentioned this blog with a compliment. These are moments that make you happy and give you an extra boost of motivation.
I was touched and sent her a thank you postcard back.
She wrote a lot about herself. She likes geocaching among others. Also a very nice hobby.
There are two beautiful postage stamps on the postcard. One shows a wooden horse. If the online research is correct, the exhibit comes from the Naturhistoriska riksmuseet, a museum of biology and geology in Stockholm.
The second stamp shows two bees. This stamp will be added to my collection of animal stamps.
The postcard covered 1,330 kilometers, that is 826 miles, in 5 days.
I really enjoyed the postcard.