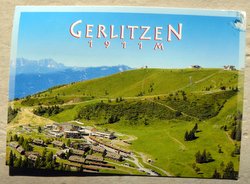 On August 26th a postcard came from Austria.
The postcard shows the summit of the Gerlitzen mountain. The mountain is located in Carinthia Austria.
On the postcard, the summit is 1911 meters high, other sources, such as Wikipedia, speak of 1909 meters. Anyway, pretty high in any case.
He's writing nice lines. He lives in Vienna but grew up in Carinthia and therefore knows the mountains there very well.
A cow can be seen on the postage stamp.
The postcard covered 370 kilometers, that is 229 miles, in 3 days.