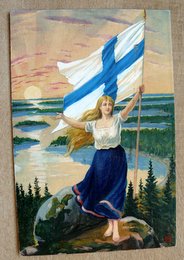 A postcard arrived from Finland on December 29, 2021.
The postcard shows a painting of a young woman holding a Finnish flag. It was created before Finland gained independence.
She didn't write that much but sent greetings from her mini postcrossing meet up group. They probably all wrote together since several postcrossers signed.
On the postcard was a postage stamp with a Christmas motif, a Christmas tree.
The postcard covered 1,678 kilometers, that is 1,042 miles, in 17 days.