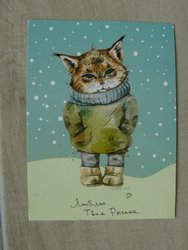 On March 16, a postcard arrived from Italy. The postcard itself is a Russian one from OwlCard.ru.
The postcard shows a drawn cat, dressed in the snow. Everything kept in shades of green.
She didn't write much. She said it was a jaguar, a little doubt allowed. It was probably meant ironically.
The stamp on the postcard is very nice and shows the Piazza Del Plebiscito in Naples. A candidate for the postage stamp of the month.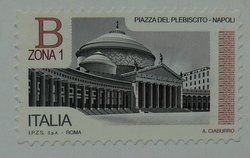 The postcard covered only 250 kilometers (155 miles) in 19 days.