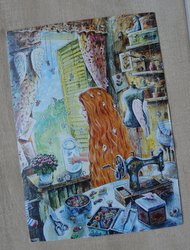 On March 14th a postcrossing postcard came from Russia, Moscow.
The postcard is a colored drawing of a young seamstress. Has a bit of a fairytale feel to it.
He didn't write very much.
Standard stamps from the Russian Post were on the postcards.
The postcard traveled 1,972 kilometers (1,225 miles) in 75 days. That was the longest duration so far. After 60 days, the postcards will be listed as expired on postcrossing.com.