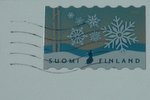 The 35th postcard arrived in mid-January. The postcard came from Finland. The postcard celebrates the red wine in a kind of comic style. Since I like red wine, I like this postcard accordingly.
The winter postage stamp shows a little rabbit looking at large snowflakes.

The postcard covered 1,807 kilometers (1,122 miles) in ten days.