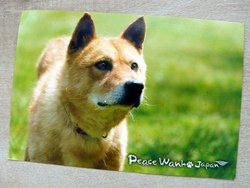 On April 14th a postcard came from Japan.
The postcard shows a dog and is from the animal protection organization Peace Wanko Japan.
She wrote that she has three cats as pets that the snow is starting to melt right now.
There are 2 beautiful Japanese postage stamps on the postcard. A kind of heron and a cityscape. Unfortunately, I can't speak Japanese to interpret it more precisely.
update: This is postcrossing! I received a reference to this stamp from a Japanese postcrosser.
This above is called Otaru Snow Light Path. There is a snow and candle festival in Otaru, Hokkaido every February.
Many thanks at this point for the help with the translation.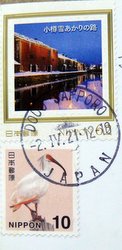 The postcard traveled 8755 kilometers (5440 miles) in 17 days.